Vintage cars have turned heads for decades. Some of the biggest head-turners have been the "muscle cars" of the mid-20th century.
Muscle cars, according to motorists.org, were made in the 1960s through the 1970s, influenced by popular drag racing and car cruising trends at the time. They were intermediate-sized, affordable, high-performance cars fitted with powerful V-8 engines and generally rear-wheel-drive, and they became very popular.
Now, a new museum in the village of Intercourse, Lancaster County, called Barry's Car Barn, features a selection of these cars from the 1950s through the 1970s. The 50-vehicle, 10-motorcycle personal collection of Lancaster County native, businessman and entrepreneur Barry Baldwin makes up an eye-popping exhibit at the new building.
Baldwin's project was in the works for a few years, but construction of the unique display barn as well as planned openings in 2020 were delayed by the COVID-19 pandemic's safety guidelines.
The museum — a labor of love for Baldwin — had a soft opening in April and is attracting tourists and residents who had heard about the museum and either owned a car from that time period or want to see some of the "iron of the era."
"It took a little longer for the museum to open than we planned," Baldwin said, "but I am pleased with the result, and we have had nothing but compliments from our visitors."
Besides a museum, the barn structure ultimately will house a second-floor restaurant and brew pub overlooking the display of vehicles.
"We'll host parties and special events in a truly unique setting starting in early 2022," Baldwin said.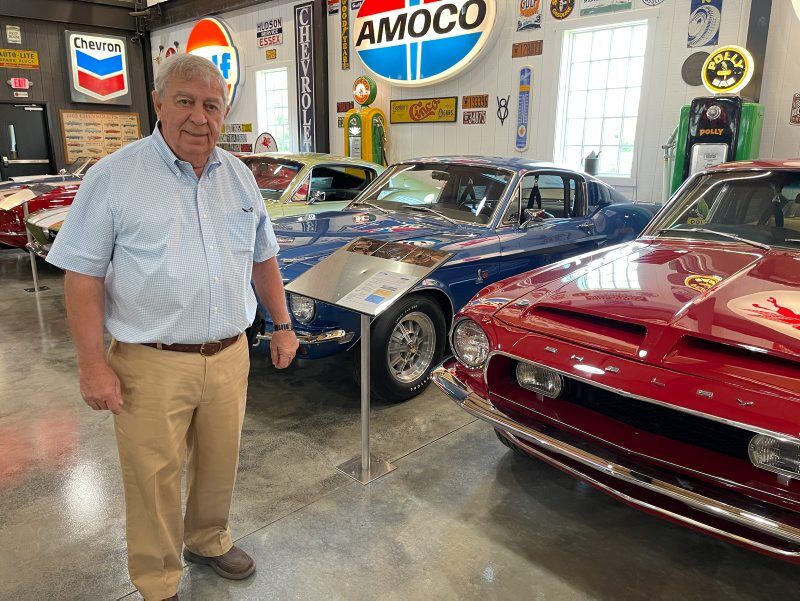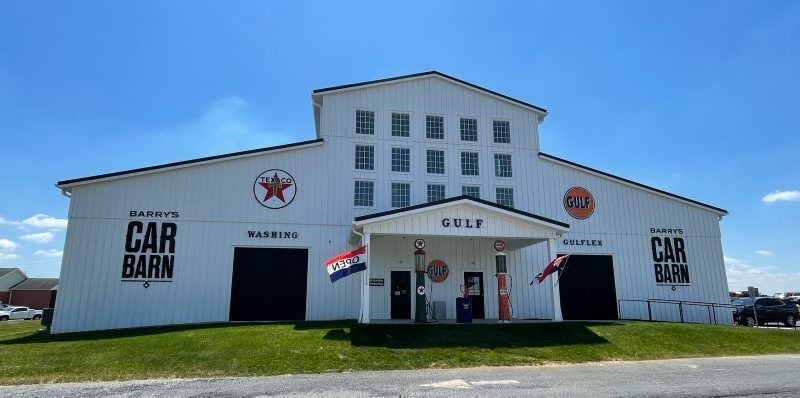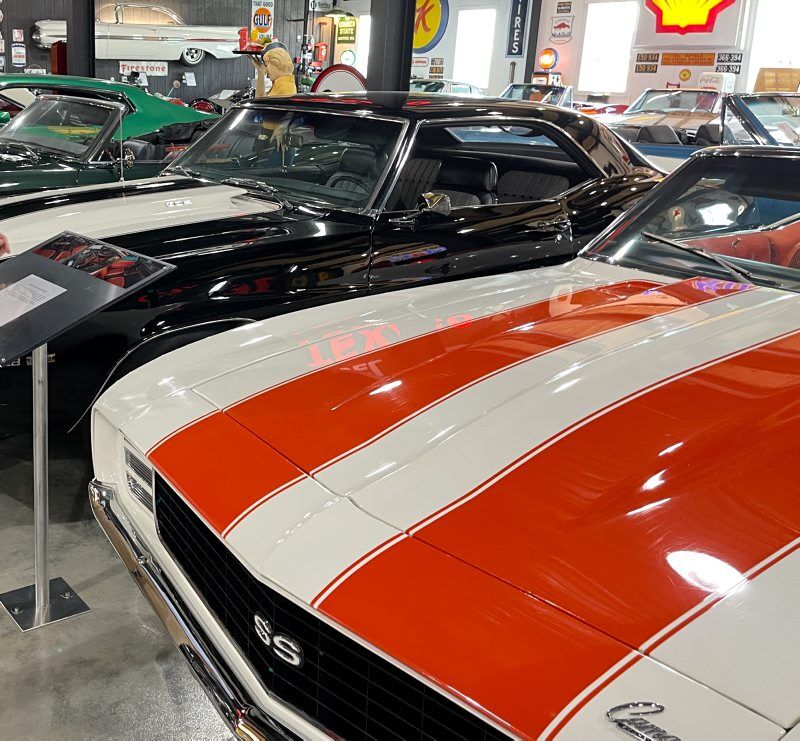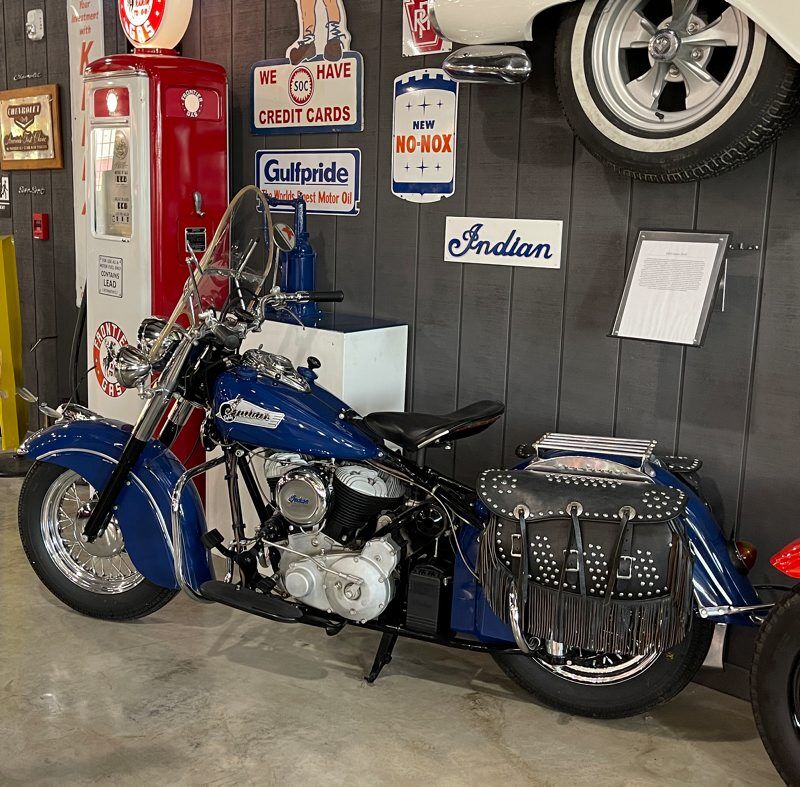 An interest in cars runs through more than one generation of the Baldwin family. Barry Baldwin grew up in Gap, close to the Chester-Lancaster county line. His dad, Clement Baldwin, started working on early American automobiles in 1918, 10 years after the first Model T rolled off Ford's assembly line. Clement Baldwin opened a car repair and fuel station on Old Philadelphia Pike in Gap in 1922, and it has remained in the family ever since.
Barry Baldwin, now 78, learned to drive with the help of his late brother, Ned, at age 14, and has been driving ever since. He owned cars almost from when he was legally able to drive in the state, but thinks he bought the first car in his collection (long since sold) in the 1960s. It started a love of the classic muscle cars of the era.
An Ever-Changing Collection
That love and interest is evident in Barry's Car Barn museum. His collection includes 15 Chevrolet Corvettes, including one from the 1954 production run with a hand-molded fiberglass white body. If you look really close at its fender, Baldwin said, you can see the weave of the fiberglass material under the paint.
Sitting next to the 1954 Corvette is an almost identical 1955 model, but with a machine-pressed fiberglass body and a V8 engine. Not 10 feet away is a 1956 aquamarine Corvette that is as sleek and attractive today as it was when the first owner drove it out of the showroom.
On the museum's opposite side are Baldwin's other favorite cars — the iconic Ford Mustang Shelby muscle cars. The Mustang was the brainchild of the late Lee Iacocca, a graduate of Lehigh University in Bethlehem, Pennsylvania. Iacocca had the vision to build a modest, sporty vehicle, the Mustang, which was hugely popular and remains America's best-selling sports car with 10 million being made in nearly 60 years.
Baldwin's love of the Mustang goes a step further to the early Shelby KR, or "King of the Road," models. These cars were Mustangs with large engines modified by the late Carroll Hall Shelby, an automotive designer, race driver and entrepreneur, who was famous for his Cobra and Mustang models that he modified through the early 2000s.
Although cars are a big part of his history, Baldwin also is known in southwest Pennsylvania for his electrical and mechanical contracting business, which has six locations. Baldwin was the driver behind Urban Place, a series of restored 19th-century manufacturing buildings on New Holland Pike, in Lancaster, that is now a destination site with offices, dining and shopping venues as well as the Cork Factory Hotel, a member of the Historic Hotels of America.
As for his passion for classic cars, Baldwin said, "I don't look for any specific vehicle, but buy what I like, which may be unrestored to partially and fully restored."
His collection also includes examples of early 20th-century automobile craftsmanship including a 1930s Packard Phantom Limousine, a 1947 Mercury Woody (wood-sided) station wagon, and a classic, black 1960s Austin Healey 3000 from noted English car designer and speed record holder Donald Healey.
Baldwin said there are an additional 20-30 vehicles in his collection that are in different states of restoration.
"We'll rotate new vehicles through the Barn as they are ready to show in the months ahead," he said.
Everyone asks Baldwin which car is his favorite and the answer is a quick one: "All of them are my favorites or I would not have purchased them," he says.
His answer about which is the most expensive car in the collection is more specific. Currently, he said, it is a 1967 Shelby 500 that he estimates to be valued between $175,000–$275,000.
Barry's Car Barn differs from its neighbor, the Classic Auto Mall, 18 miles away in Morgantown, which is a consignment showroom for 1,000 vehicles under 8 enclosed acres. Although Barry will sell cars in his collection, his first goal is to show these mid-20th century pieces of art to the public, many of whom have only seen them in old movies, magazines or online.
Collectors looking for their "toys" will always be around, explained Baldwin.
And there are plenty of collectors worldwide looking for "barn finds" of classic cars with odometer readings under 100 miles. One of the world's largest collections is in England and owned by Roger Dudding who has 350 vehicles in his warehouses, worth a total of $55 million. American comedian and talk show host Jay Leno also has one of the largest collections of antique and vintage vehicles in the United States, with 181 cars and 160 motorcycles included.
Barry's Car Barn is located on Old Philadelphia Pike (PA Route 340) opposite the popular Kitchen Kettle Village in Intercourse, Pa.
For more information, go online to www.barryscarbarn.com.